Manolo Almagro, Q Division Managing Partner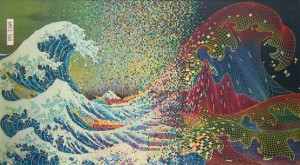 There's an exciting mindshift at work in Asia. Regardless of what country you go to these days, digital agencies are preaching a new mantra of "change" that challenges the "old-guard" of traditional media (a.k.a Tri-Media- TV, Radio, Print) – albeit self-serving, these agencies are evangelizing that the 'new' Tri-media is now digital. (on-line, mobile + place based)
Whether its Singapore, Manila, Seoul, Hong Kong or Shanghai – the song remains the same, big media is finally acknowledging that digital is re-writing everything. The mindshift from mass communication to intimate conversations with the customer have taken root – and the message is no longer in control of the brand.
But can digital truly be the new Tri-media in this parallel world?  let's review the statistics;

mobile phones out number desktops – making mobile internet the primary way people keep connected with their social networks and with friends.
broadband proliferation (fueled by 3G, 4G mobile web + broadband availability) has had consistent growth year after year
most people in the region spend over 50% of their time out of the home; – this of course is the most compelling reason that digital place based and outdoor advertising has recently started to get a bigger slice of the media budget.
the astronomical cost of a broadcast media buy in the region puts traditional advertising way out of reach of SMEs marketing budgets, which makes digital a more cost effective and measurable channel to communicate with customers.
Along with the shift in consumer behavior, the strategies that brands and agencies create campaigns are also changing. Previous mobile SMS campaigns were one-way extensions of traditional media that were used to enhance awareness and reach. But, the current projects I work on today- break with the 'broadcast' strategy and focus on what mobile ads can do best- combine the context of a location with a digital mode of conversation that Asian customers are accustomed to use to share their intimate details of their lives (SMS/MMS) simply put – A 2-way mobile campaign that provides a solid loyalty currency are all you need to get your customers to tell you a lot more about themselves and their friends- providing deeper insights than just the typical age, occupation and geographic location of most opt-in SMS campaigns.
Asia's interest in digital placed based advertising as the third 'pillar' of the new tri-media trifecta can only be described as 'viral' – with agencies and their clients desperately trying to understand the emerging channel.  Some consider DOOH as the 'anchor' to the mobile campaign, others see it as a way to create newer, innovative experiences that use mobile as the 'mouse' or 'click-through' mechanism for digital retail merchandising.
The digital out of home industry in Asia is rapidly moving out of its nascent stage, but it still exhibits the symptoms that plague the Western market (i.e. lack of subject matter expertise, measurement standards, and fragmentation) But that's where the similarities end. I have it on good authority that there is an unprecedented initiative underway to create a single industry organization that will span all countries of Asia with hopes to provide a way for its members to evangelize, educate and best of all collaborate on things such as technology purchases, market research and cross-network media buys.