Many wondered what these (seemingly) daft French people were doing on their stand at #ScreenMediaExpo a week or so ago. It appears it was not so daft: it being a cross between a piece of 'performance art' and truly great exhibition stand theatre and better still, all resulting in a piece of content – a (real time) 24-hour loop of a real clock that can be used with digital screen networks!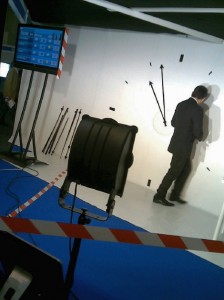 Jerome Lefevre, CEO of Infotraffic told us "A part from the fun in preparing this project, we wanted to create an original freebie for our customers during the show itself"
He added "And since we are specialised in real-time content, partly based on community driven information, this film also reflects in some sort the spirit of our company".
For those of you who weren't in London or those who just blithely walked past the big white wall, the bright spotlights and that man in black sitting behind his desk all day let's explain briefly what he was doing…
Christophe (the man in black) was adjusting the big hand of the real time clock every minute, while an HD camera filmed him non stop. During the 2 days of filming he was assisted by around 25 visitors and exhibitors of the expo (some of whom turned out to have great acting skills!).
There's a sneak preview of the clip up already on www.infotraffic.com but soon the final version, starring some of the players of the DOOH industry, will be made available and DailyDOOH subscribers should be the first to be able to download it.