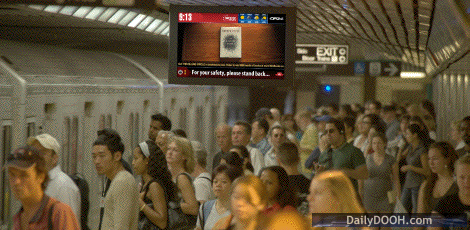 Random House of Canada, Art for Commuters and Onestop Media Group, all of Toronto, have partnered in a new venture that will bring authors' texts to life on hundreds of large-format LCD monitors in the Toronto Transit Commission's subway system, reaching more than 1 million people daily.
First up – for 10 days – is the just-launched The Killing Circle, the new book by Toronto-based author Andrew Pyper. Three one-minute videos were produced by artist Leslie Loksi Chan, specifically for the Onestop TTC Network and reference different parts of the book: part 1 will air for the first three days; part 2 for the following three days; part 3 for the remaining three days; and all three will replay sequentially for the last two days. The videos include a push to enter to win a copy of the book online, where the videos can also be viewed on demand.
This type of digital book promotion is believed to be unique.
"In a world where it has become almost impossible to get a video to the surface of online properties such as YouTube, Random House of Canada is always looking for innovative and measurable ways to get more eyeballs on its books," says Lisa Charters, vice-president, director, online sales and marketing at Random House of Canada. " Reading and riding the TTC go hand and hand. Combine that with the fact that Andrew Pyper is a Toronto author and the setting of his new book The Killing Circle is Toronto, makes this a perfect environment and medium for the launch of the book."

Michael Girgis, president of ONESTOP Media Group says, "This is a fantastic example of what unique opportunities exist with Out-of-Home Digital. Random House of Canada has tapped into a massive hyper-targeted captive audience and discovered an engaging way to promote books, while Art for Commuters has discovered yet another way of weaving more art-inspired content to our viewers' daily commute."