Gail Chiasson, North American Editor
Fast-growing Gloucester-based AV support company, Production:av wasted no time in adding Christie's MicroTiles to its inventory, ordering 25 of the new tiles after seeing them at this year's ISE Show in Amsterdam.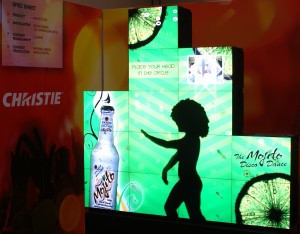 Started by Pete McCrea, managing director, five years ago, Production:av provides technologies for the fixed installation and systems integration markets. The company is enjoying its best year ever – with turnover showing a 30% lift on the previous year.
According to Andy Cook, business development manager, company management is confident that the addition of the modular MicroTiles – which combines the strengths of both DLP and LED technology to produce spectacular brightness in a near seamless display – will take Production:av to the next level.
"MicroTiles was one of the big talking points at the ISE Show and we were immediately sold on it," says Cook. "It is a unique and high quality product and so it was important that we early adopt. In fact, we want to move this into as many of our core market sectors as possible."
It will also span a wide portfolio, and Cook sees MicroTiles as a perfect solution for pharmaceutical presentations where precise detail is required, and for the digital signage sector, where the small (408mm x 306mm) module sizes give enormous design flexibility.
Production:av already had a relationship with Christie, but it was only after meeting Joe Graziano, market development manager, MicroTiles, Christie EMEA, and James Belso, UK Channel Sales Manager, Christie EMEA, and visiting the company's EMEA headquarters in Wokingham, that it could see how MicroTiles would form part of a much wider plan, and increase their market penetration.
"We provide high definition projection for many clients, and we were looking for a product where you could be 2-inches or 15-metres away from it and it would still retain the quality and brightness," says Cook. "With its 0.5mm pixel pitch high resolution is assured – and unlike PDP plasma and LCD flat screens you don't lose the brightness towards the edges. And the front panel service access isanother major selling point for us.
"As one of the first to run the system we will be pushing Christie hard and also hoping to sell MicroTiles through our distribution channels. We see a lot of products but this is superb quality and offers many different options."