Adrian J Cotterill, Editor-in-Chief
Dads heading off on a half-term break or for a spot of shopping with the kids are the target of an interactive outdoor advertising campaign from Ford.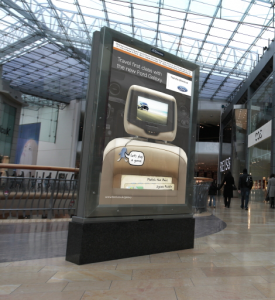 Running from 24th May until 7th June 2010, the campaign targets the male audience during their freetime with the kids – JCDecaux's 6-sheet advertising sites have been specially adapted to carry two interactive digital screens, the top one offering a video and a menu of information about the new Ford Galaxy with the bottom screen providing interactive games for the kids.
While dads browse the latest information about the new Ford Galaxy model, their children can choose from a selection of interactive puzzles and games and even submit their name to the leader scoreboard.
Sam Bird, Head of Innovate at JCDecaux told us "We are delighted that our first ever joint mall and airport campaign is using our new dual-screen 6-sheet panels. The long-dwell times at shopping malls and airports make them ideal environments for interactive digital campaigns, catching audiences when they have time on their hands and are in the right mindset to engage with the advertising."
There are 6-sheet dual screen specials at Heathrow Terminal 5, Gatwick, Luton, Edinburgh and Glasgow and two 6-sheet dual screen in shopping centres Bluewater, Birmingham Bullring and the Trafford Centre.
Ford Galaxy mind you has also booked 6-sheets and billboards at airports, malls and rail. The Out of Home activity is part of a wider campaign for Ford Galaxy which includes online and the press.
Ford Galaxy's launch campaign was booked with JCDecaux and JCDecaux Airport through Kinetic and Mindshare and the creative agency was Ogilvy.