Adrian J Cotterill, Editor-in-Chief
These new screens have been up at Lord's since 15th May so not sure why the press releases have started flowing now about it but either way it's great to have some really nice pictures of the install.
The picture shown above is indeed an LED, taken far enough away of course for the clarity to appear but it really is a good looking screen (as we think the picture shows).
Lord's is the home of the Marylebone Cricket Club (MCC) and the 'true home of cricket' – much like the English like to think that Wimbledon is the home of Tennis, which of course it is!!!
Steve Jones, IT manager at the MCC explained that "We had two scoreboards that had been there for some time and the 16,000 light bulbs of which they consisted needed constant replacement. We also had a temporary video screen which was brought in for major matches. So when we decided to replace the two scoreboards, the decision was made to add a third and set them all up to be capable of showing video"
Gardiner and Theobald were hired as project managers who put out a tender for a full Design and Build contract and there was we are told a 'shoot-out' (surely that should be a 'bowl-off') between six LED screen manufacturers
Lighthouse ultimately won the contract and also appointed AMX who specialise in electronic control systems to develop an integrated content management system for all three screens.
Damon Crowhurst, Director of Market Development at AMX's Inspired Signage Group told us "This was a fantastic project to be involved with that really delivers the first truly end to end AMX solution and demonstrates the real value behind AMX's continuing strategy of integrating end to end solutions with our technology portfolio. It was also a great opportunity to work with Lighthouse LED's and extend our signage solution into this arena."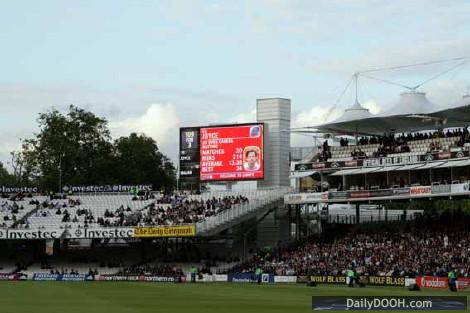 The software system has been designed to access data from Code 27's widely used Total Cricket Scorer© (TCS), which is displayed alongside video content received from outside broadcast trucks – this means that for those who follow cricket, the scorers, who have ultimate control over the boards, can select what they want to show on each screen!
All photos copyright Clare Skinner