Adrian J Cotterill, Editor-in-Chief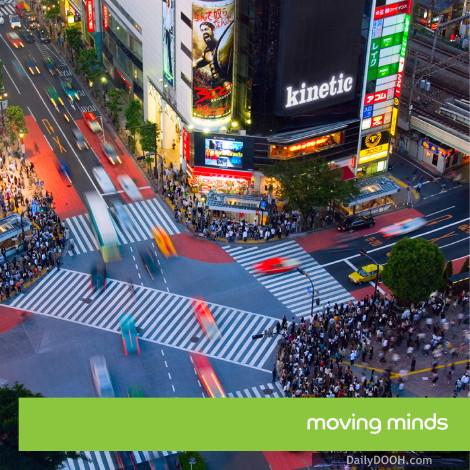 It's an increasingly competitive out of home media buying space – especially in the UK at present, here we see Kinetic Worldwide doing quite a big brand refresh.
The Brand Refresh began back in June with the launch of a new website – designed, we are told, to illustrate their strong global positioning and wide range of services. The refresh was implemented by Kinetic's long term branding partner, Philosophy Design.
Nick Mawditt, Director of Marketing and Insight at Kinetic told us "Our brand identity is crucial in that it not only differentiates us from other media agencies, but highlights the visual and communications appeal of Out of Home and Kinetic's unique positioning within the industry, plus the changing and dynamic nature of consumers on the move."
Interesting to see that Kinetic now has two straplines – 'reach the moving world' and 'moving minds'.
About Kinetic

Kinetic is the leading Out Of Home media agency that understands how to communicate with people on the move. Kinetic plans and buy all forms of media when your target audience is out of home. Kinetic, led by global CEO Eric Newnham is 50% owned by the Kinetic management team and 50% owned by WPP. Kinetic delivers wide-ranging specialist expertise through its complementary service divisions including Aviator, Kinetic Mobile, Kinetic People, Kinetic Intelligence, Zone and Hi Resolution. Kinetic employs over 900 professionals across 42 offices including the UK and US. The agency has global billings of US$4.4 billion.