Adrian J Cotterill, Editor-in-Chief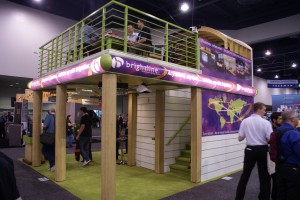 Yesterday Gary Kayye tweeted that his favourite booth was that of Christie Digital. We had a long, long walk today around both halls and were gobsmacked by the brightline stand N2317.
We'd loved it so much in fact that we are seriously thinking of insisting that our next blogger lounge in Europe (this will be the centre of Hall 12 at ISE in Amsterdam 1st to 3rd February 2011) is made to a similar specification!!
Out of all the stands that we saw on days 1 and 2 this one really stood out. Note the bamboo construction and two levels. Lovely.