EYE, has been working closely with Unilever to dispense trial products via specially designed Eyelites – carried out in Australian destination centres across NSW, VIC and QLD this month, the campaign encourages women aged 13–24 to sample the new fragrance Impulse Into Glamour from Unilever.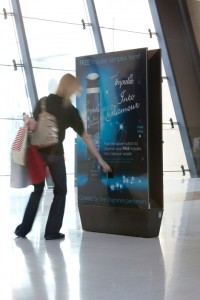 Here we see EYE having installed specially designed dispensing mechanisms to Eyelites allowing Shoppers to receive free product samples of Impulse Into Glamour.
Michael Callaghan, General Manager, Eye Shop Australia and New Zealand told us "This creative execution combined with excellent centre selection represents an advertiser who truly understands their target market and the best environment in which to impact Shoppers. We know EYE Shoppers are more engaged than others, so the element of call-to-action and trial was always going to be a success."
Eye Shop research validates that out of all consumers who recall advertising when they are inside the centre, 72 per cent say advertising influences their purchase decisions. Recent MOVE results indicate that heavy weight Eye Shop campaigns targeting people aged 16 to 24 will deliver 37 per cent reach with a frequency of 6.72.