Gail Chiasson, North American Editor
Synchronized multi-screen video walls and prize-redeeming kiosk and SKU-activated merchandising applications are all part of BrightSign's booth where the company has teamed up with several content developer partners to demonstrate innovative digital signage applications.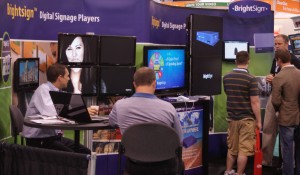 The partner demonstrations reinforce BrightSign's commitment to offering one-stop shopping for a broad range of turnkey digital signage solutions that are easy to use and affordably priced. Management claims that, when paired with one of BrightSign's content developer partners for creative design through implementation, retailers, organizations and institutions can be certain that their messages will stand out from the crowd.
"InfoComm attendees have the opportunity to see how content developers are combining their creative talent with BrightSign players to deliver truly amazing displays with custom looping, multi-zone, synchronized and interactive playlists," says Jeff Hastings, BrightSign CEO. "Each partner, each demonstration is unique because it brings its own distinctive skill set and style to signage projects ranging from marketing to branding, retail and beyond. By combining its experience and creativity with the simplicity and reliability of BrightSign's feature-rich, non-PC controllers, it can streamline deployment and have the confidence that its application integrates and displays beautifully."
BrightSign management says that using its solid-state digital signage and kiosk controllers to drive these high-definition displays, content developers can provide their customers with signage solutions that are more affordable than PC-based solutions. With no moving parts to fail, the controllers are more reliable and provide a significant savings in maintenance costs. They're also easier to deploy, manage and update, and only require a fraction of the power used by PC-based systems, so offer a substantial savings in energy costs. Designed for scalability, users can start with a stand-alone solution and can cost-effectively move up to a networked system when they're ready.