Gail Chiasson, North American Editor
Ethical Bean Coffee, Vancouver, has developed Canada's first iPhone App For Coffee.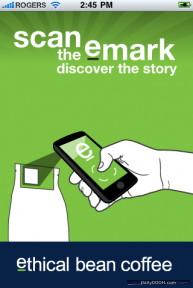 The company, Canada's second largest 100% Fairtrade Certified roaster, has launched the latest technology in coffee packaging and design, enhancing the level of transparency and information available to its customers.
Each bag of Ethical Bean coffee has been equipped with its own 2D barcode that can be scanned in-store using a free Ethical Bean iPhone app or entered manually on the company's website.
This revolutionary new feature gives consumers the opportunity to watch interviews with farmers, look up cupping notes and roast profiles, and Google map each bag's beans down to the exact field that they were grown in, all while standing in the grocery aisle.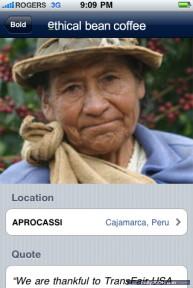 Ethical Bean's new bag also combines a zip seal for freshness and ease of use with clean, modern graphics that engage coffee lovers with more roast and taste information than ever before.
The new packaging reflects the company's commitment to producing the best tasting, freshest coffee for consumers while providing a just and better approach to coffee roasting.
"At the end of the day, we want people to love our coffee, not just because it makes them feel good," says Lloyd Bernhardt, co-founder of Ethical Bean Coffee, "but because they know they're getting the absolute best cup of coffee that we can provide."
The Ethical Bean app, which is also free on iTunes, was developed
in-house by company owners and co-founders, Bernhardt and Kim Schachte, along with their graphic designer, Melanie Carlson. Bernhardt worked in software before launching Ethical Bean in 2003, so his hope is that this app will change the entire coffee industry by using technology to start a conversation between the consumer and the coffee grower.