Adrian J Cotterill, Editor-in-Chief
We had three conference calls on Monday with clients who could not make #InfoComm2010 and briefed them on what they may have missed in Las Vegas last week. The strange thing was "not much" – Prysm officially launched their tiled platform and we think everyone was unanimous in their opinion that the final product looked pretty good – much better for sure than the pre-production prototypes we had seen in whisper suites and on show floors up until now BUT as Gary Kayye said in his presentation at the Projection Summit the previous Tuesday "if it weren't for Christie and Prsym there wouldn't be much innovation in the sector at all at the moment".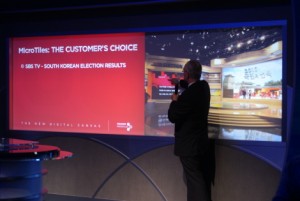 As usual what was not announced officially or what was ONLY hinted at was just as interesting and 20 minutes before the official Prsym launch we sat listening on the show floor to Bob Rushby, CTO Christie Digital and then Richard Heslett, MicroTiles product manager explain a little bit more about MicroTiles 2.0 – their next iteration of innovation around the MicroTiles platform (which is by the way still not yet a year old).
The following new MicroTile initiatives were very briefly given a quick mention…
A new screen which we were told has a much wider viewing angle with very high colour fidelity. This will we suspect be an option / alternative to what is normally supplied. We heard but it was not confirmed that this new glass is what was installed at the Nascar video wall
An optional 'trim kit' which essentially provides some form of exterior cover to give the outer edges of an array a more pleasing look (although personally we are fans of the 'industrial look')
A remote ECU which was asked for by some customers and enables the ECU to be located considerable distance from the MicroTile array (most probably by the use of a fibre connector each end)
An inside corner tile module. This will undoubtedly allow much more flexibility for concave arrays by enabling the MicroTiles to 'see' each other over a wider range of angles
Not surprisingly, when Christie showed three different types of interaction on their booth they also spoke about supporting numerous interactive technologies
All of the above we think are scheduled for shipment in Q1 2011 except for the new screen which is likely much sooner – possibly even this quarter.
There were lots of new deployments mentioned also, some of which we have covered or rumoured here and others which were new to us. These included: –
Colbert Report
Nascar Hall of Fame
South Korean Election coverage on the SBS network
More rental/stagers
Support of a 3M corporate event
China World Expo
American Museum of Natural History
Several universities
They also hinted at a design win for a Presidential Library with 800 MicroTiles – we calculate at cost that alone is a USD 2 Million order!
We also heard on the booth that there might be some super secret ECU things in the works as well.