Gail Chiasson, North American Editor
To promote their unique partnership, 7-Eleven Inc., Dallas, and Zynga, San Francisco-based social game developer, decided to work with Titan to create five branded, wrapped commuter buses equipped with digital screens on their sides and traveling in the Chicagoland area.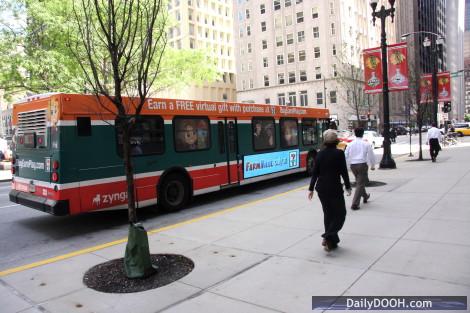 The 7-Eleven/Zynga partnership is using what is believed to be the first full-wrapped, digital bus kings in the U.S. to advertise the partnership and highlight their new cross-brand promotions. Digital Bus Kings were introduced to Chicago by Titan in 2008 and have been bringing static media to life via a 30" x 144" digital screen mounted on the curbside of each bus.
In this case, 7-Eleven 'owns' the entire buses from tip to tail, including the 42-second digital loop that promotes branded specialty products from Zynga's popular social games including FarmVille, Mafia Wars and YoVille in participating stores. Limited-time collectible products can be redeemed with points earned with playing the free, online games as well as available with certain 7-Eleven purchases.
"Transit advertising is a key component of our overall media mix," says Stephanie Hoppe, 7-Eleven's senior marketing director. "This is a unique campaign that calls for innovation, but also requires something that is impactful on a very broad scale. We've seen the digital buses around Chicago, but we had never seen a creative execution of this caliber."
Zynga, the leader in the social gaming space, boasts more than 67 million users per day on sites like Facebook, MySpace as well as on smart phones.
Jörg Cieslok, executive vice-president and Chicago general manager of Titan, spearheaded the effort and was able to implement the campaign in just two months.
"Titan is always looking to introduce our digital displays to new brands and new advertising partners to enable them to leverage the dynamic and engaging nature of our technology offerings," says Cieslok. "For Zynga and 7-Eleven, the opportunity to take ownership of static and digital media, combine the two media formats into one property, creating a moving, larger-than-life display, was something intriguing to both companies. They saw that Titan had all of the assets and provides a customized offering to meet both brands' needs."
The Zynga promotion, which is currently in 7-Eleven stores, was created and produced by 7-Eleven's integrated advertising agency, Freshworks, a consortium of Omnicom companies. The media buy was facilitated by Outdoor Media Alliance and TracyLocke.