Gail Chiasson, North American Editor
Oakland-based Pandora has announced that Starbucks, Lexus, and Budweiser are the first brands on the new Pandora iPad advertising platform.
Each campaign features
attributes that fully make the most of one or more of the rich video, audio and interactive capabilities of the iPad.
Pandora's unique advertising solutions draw from its multi-platform presence – now including the iPad – and ability to hyper-target consumers by gender, age, location, the type of music they like, and time of day. Advertisers on Pandora can stream video, audio, direct response or experiential creative to a specific set of consumers anytime, anywhere: on their computers at the office, home, on their smart-phones, and now, on the iPad.
John Trimble, chief revenue officer, Pandora, says, "Our debut advertisers have gone all out with eye-popping creative that really works in the anything-can-be-done world of the iPad. Pandora users already engage with their Pandora application to the tune of eight times an hour, refining their stations or interacting with relevant advertising.
"We expect that engagement to be in full-force as they experience the appealing and relevant ads playing in concert with their musical experience on the iPad. We're extremely excited that our newest platform is being utilized to its fullest extent by Starbucks, Lexus, and Budweiser to reach the consumers they want, anytime, anywhere."
Starbuck's however-you-want-it Frappuccino beverage campaign brings to life the new customization aspects of the beverage aimed to connect with consumers for whom self-expression is a priority — especially when it comes to their choice of beverage. As part of this campaign, Starbucks has created unique experiences with Pandora across several digital platforms. While Pandora web users can build their however-you-want-it Frappuccino beverage which then generates a radio station playlist matched to the user's beverage taste, iPad users are able to connect with the Starbucks brand through videos, without leaving the Pandora application.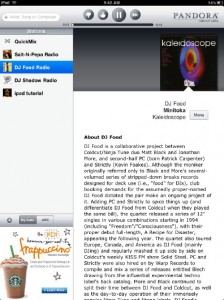 For Lexus, "As the exclusive automotive partner for the Pandora iPad application, we look forward to showcasing our new brand commercial to this audience of early adopters," says Dave Nordstrom, vice-president of marketing, Lexus. "The spot, titled 'Pitch,' features the LFA as it revs its engine to a pitch that shatters a champagne glass. It shows just how deep our pursuit of perfection and commitment to innovation goes and by running the ad on untraditional media, we show that Lexus is not only at the forefront of technology with its vehicle designs, but also with how we communicate with consumers."
And for Budweiser, "Integrating Budweiser and Bud Light Lime into the Pandora iPad application is a great opportunity for us to interact with adult music enthusiasts utilizing the latest mobile technology," says Mark Wright, vice-president of media, sponsorship and activation, Anheuser-Busch. "As the exclusive festivals page sponsor, Budweiser gives Pandora users a destination within the application to connect with some of the biggest music festivals of the year. Additionally, by extending Bud Light Lime's summer-themed stations to the iPad application, users will have a new platform to enjoy the 'Summer State of Mind' year-round."
Pandora gives people music they love anytime, anywhere, through any connected device. Personalized stations launch instantly with the input of a single 'seed' – a favorite artist, song or genre. The Music Genome Project, a deeply detailed, hand-built musical taxonomy, powers Pandora's personalization – using musicological 'DNA' and constant listener feedback to craft personalized stations from a growing collection of hundreds of thousands of recordings. More than 50 million people in the U.S. turn on Pandora to hear music they love. One day billions of people worldwide will be able to do the same.