Gail Chiasson, North American Editor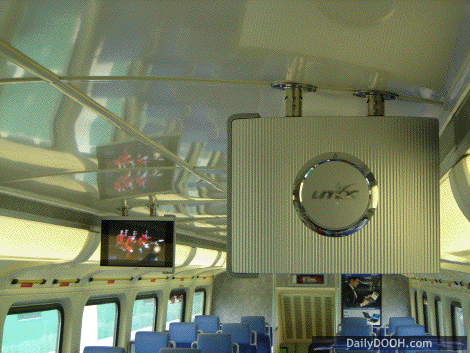 Commuters using GO trains in the Greater Toronto Area are now offered an informative and entertaining digital signage network featuring news, weather, sports and business content, movie previews, videos, and advertising – with audio available via FM radio stations.
This is one of the earliest mobile broadcast installations on commuter trains and subways in North America.
Software from Concord, Ont.-based Omnivex Corporation is being used by United Mobile Broadcasting Corporation on the GO trains to power the network of wireless digital signage. UMBC has a 15-year contract to install and operate mobile video broadcasting on LCD screens within GTA's GO Transit commuter rail system.
GO Transit operates over 400 bi-level passenger railcars in the GTA, serving over 170,000 passengers daily, and over a million impressions per week. The majority of passengers are affluent professionals and the average passenger rides the train for 35 minutes, twice per day. Each car is being fitted with eight 15 inch LCD monitors (four per level) to display the digital signage network.
An in-house software solution was considered to run the On-Train TV network, but ultimately, Omnivex was selected for its flexibility when working with new communications technologies, cost-saving ability while maintaining a network, and the ease of collecting proof-of-play data.
"Omnivex initially started working with UMBC in Nov./07 but the installation did not really start to take shape until April/08," says Jeff Collard, Omnivex president. "The project is ongoing and will expand over time as more information and capability is added to the system and expanded to other areas. UMBC designed its installation on a platform that gave it a strong base to build on for the future.
"Omnivex has been very active in transportation with airports, ferries, buses and terminals but this is the first system that we have installed on moving trains. From a software perspective, this is pretty straight forward, but the application provides some major challenges for hardware. Vibration is a fact of life on a train. UMBC had to look carefully at PC performance and selection. Design restrictions on hardware must be compensated within the software so being able to configure the system to suit the environment was important.
"Another major hurdle in this installation was network connectivity. Cellular communications was the best way to go, but the network had to accommodate limitations in bandwidth, transfer speeds and switching between towers since the train travels at high speed. The player must be able to operate in a disconnected state for periods of time without any loss of performance to the viewer."
"We face unique networking challenges when deploying on moving trains," say Jonathan Rhee, vice-president, UMBC. "Omnivex was able to address these challenges by interfacing with the EVDO cellular network that the digital signage is managed through. In addition to this, Omnivex software is fully scalable, allowing it to expand with UMBC's network as it grows."