Gail Chiasson, North American Editor
An application out of Marina del Rey, California, available worldwide, has proved to be ultra-popular in Canada where, on the iPad, it achieved the Canadian iPad 'triple crown': in the Top 10 paid apps (textPlus ad-free); Top 10 free apps (textPlus); and Top 10 top grossing apps (textPlus ad- free).
While that was the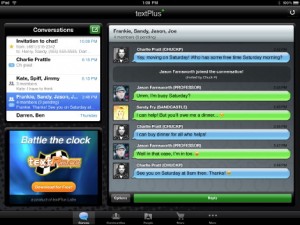 case after 2 million iPads were sold, Apple has just announced that it has now sold 3 million (only 80 days after its introduction in the U.S.), but we fully expect that textPlus has stayed right up there among the most popular apps available.
And we wouldn't be at all surprised to find that it's the teen and early 20s crowd that are the biggest users and have put them at the top. Because it's free!
textPlus is committed to providing unlimited, free texting through its ad-sponsored app, with no limit to how many messages you can send or receive. (It uses WiFi, 3G or Edge and can be used from your iPod touch, iPhone, iPad, Android, and even with regular SMS if you don't have a Smart device. No cell plan and no number is required. Your textPlus address (username) makes having a cell # unnecessary. And it can be used even if your friends don't have textPlus. In that case, as long as they have a text plan, they can text you first to your textPlus address (as the message) to the number 60611 (U.S. and Canada) to start the connection. You reply and now you're texting.
Or you can just go app-to-app with your textPlus addresses. And you can group chat with any phone, and everyone gets all the replies.
It's all free as long as you are willing to accept ads. Ad-free texting is available for $2.99 (1 yr).
If you are texting Canadian friends from the U.S., even if they don't have the app, they can text you back without international charges – just through their regular text plan. If they are also on textPlus, you can message app to app anywhere in the world for free.
textPlus was a launch app on the iPad, and named an Apple 'Staff Favorite' the day it debuted.
"People are loving iPad as it becomes a part of their daily lives," said Steve Jobs, Apple's CEO. "We're working hard to get this magical product into the hands of even more people around the world, including those in nine more countries next month."
Developers have created over 11,000 new apps for iPad that take advantage of its Multi-Touch user interface, large screen and high-quality graphics. iPad will run almost all of the more than 225,000 apps on the App Store, including apps already purchased for an iPhone or iPod touch.
textPlus is a product of GOGII which was originally was originally funded by Kleiner Perkins Caufield Byers' iFund for $5.2 million and later raised a $8.2 million Series B round led by Matrix Partners.