Adrian J Cotterill, Editor-in-Chief
This store at next week's In-Store Show, is aimed at educating retailers, brands and their agencies about how effective DMiR can be AND is exactly the sort of thing we'd like to see at other shows (#ScreenMediaExpo, #ISEUROPE are you listening?)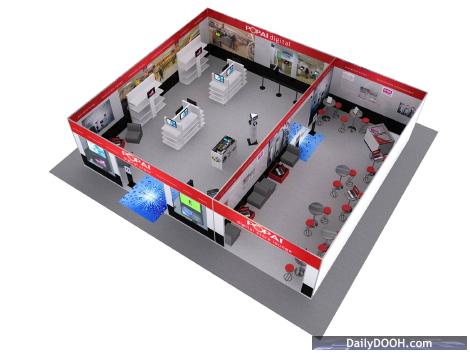 We are told that POPAI are expecting hundreds of visitors to the store, with all of their VIP guided tour slots fully booked with the likes of Daimler Mercedes-Benz, Innocent Drinks, Marks and Spencer, Fenwick, Black & Decker etc.
The (actual) exhibitors that, we guess, all put some money into a pot for this booth are:
Paradigm AV
Ginsbury
Imagesound
signagelive
Mood Media
100% Group
Realisation
ZBD
RMI (nee abc Media)
Momentum
Protouch
We have seen the Retail Banking content created by Realisation that signagelive will be running together with Imagesound for one of the in-window (46″ high bright from Ginsbury/Samsung), digital poster and 10″ counter-top screens (IAdea/Viewsonic SMIL devices) and it looks incredibly good and well themed.
If the rest of the store areas such as c-store, mobile etc. all look as good and it is merchandised as a store environment as planned, this booth wil be superb. More next week.