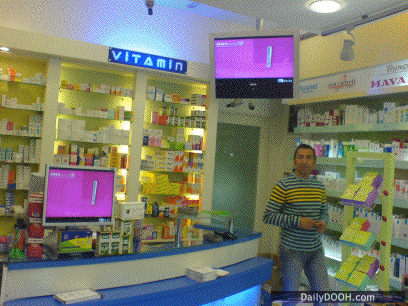 As mentioned before, Pharmacy Channels really are the success story of digital signage in EMEA – 'niche and thee will be succesful!'
I had a chance last week to look first hand at Eczame Yayin Sistemi – Turkey's very own Pharmacy Channel.
It's been very well done and very well thought out by the folks at Demedya. Demedya will install either one or two large screens high on the wall, behind the counter or in the corner where they will get maximum visibility when people enter the shop and stand and look around. They also put a smaller screen on the counter itself close to the EPOS / Till.
The stores tend to be small pharmacies and you cannot miss the screens.
There is currently no sound but the facility is there for sound should the network need it – for example for employee training.
The business model is interesting.
Demedya pay for the whole installation themselves and then split the advertising revenue generated by the network with the Pharmacy Association (not the Pharmacy / Retailer itself) – who plough their money back into the industry and the association.
The pharmacy makes no money from the advertising revenue, gets no time on the content wheel but does of course benefit from sales uplift of the products being advertised.
The majority of the advertising on the network – I saw 8 brands being promoted – are sold in the Pharmacy.
The largest 100 stores will all be up and running soon and there are a llikely another 250 by middle of next year.
There are no big retail chains in Turkey in the Pharmacy world – all of the shops are what we would call 'independents'.
Demedya handle the system design, network management, content and media sales themselves. Turkey is a huge country and they outsource the AV side of things and the actual deployment (but always have an employee present during the physical installation work).