Airport media specialist, EYE, has expanded its team in London by appointing two new members of staff; Mark Kaye and Hugo Clarke join EYE's team following EYE's successful acquisition of the advertising rights at London Gatwick Airport and London Stansted Airport.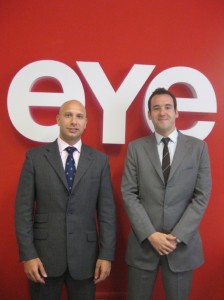 John Rankin, General Manager, Eye Fly UK told us "Due to the rapid expansion of the business with the acquisition of Gatwick and Stansted Airports, we have a great story to tell about our national airport offering. Our new team members will provide excellent support in reinforcing our vision for airport media whilst positioning Eye Fly as the leaders in the airport media sector".
Mark Kaye joins EYE as Client Sales Manger and will be responsible for driving direct client sales. Mark joins EYE from CBS Outdoor where he was International Account Manager, overseeing the sales of the UK CBS Outdoor portfolio to international clients, agencies and specialists.
Hugo Clarke joins EYE as Senior Sales Executive and will be focusing on the Interpublic group of agencies through IPM. Most recently, Hugo worked as Business Development Manger at JCDecaux. Prior to this, he worked at Titan Outdoor as an Account Manager.
Eye Fly UK represents 84 million passengers per year. Eye Fly UK now partners with London Gatwick Airport, London Stansted Airport, Manchester Airport, Belfast International Airport, East Midlands Airport, Bournemouth Airport, Cardiff Airport and Humberside Airport.