Adrian J Cotterill, Editor-in-Chief
In a first-of-a-kind digital advertising campaign for Wimbledon, IBM (IBM: NYSE) kept passengers at London's Heathrow Terminal 5 up to date with the latest championship information right up to their boarding gate.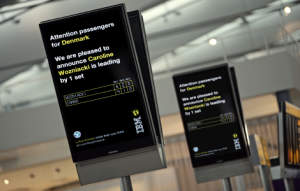 The airport screens were programmed to select match updates and players most relevant to departing flights, using information supplied by both IBM and BAA.
Roy Lee, Brand Manager, IBM UK & Ireland told us "Wimbledon is an experience for so many people, whether they are court side or outside. Information is being intelligently infused into so many communication formats now, so it is great that this ultimate British experience can be brought to fans just before they fly away."
Steve Cox, Marketing Director, JCDecaux Airport added "On average, passengers look at digital screens 99 times during their airport stay. The campaign supports IBM's role in delivering real time player progress to Wimbledon fans at a time when they are unable to watch the match and want to keep in touch with the action".
Seventy-three digital screens located in the departure lounges along the main walkways transmitted tennis updates to interested fans.
Companies involved with the Heathrow Terminal 5 'Lotus Knows' digital advertising campaign included JCDecaux, Kinetic, Mindshare and OgilvyOne.