Adrian J Cotterill, Editor-in-Chief
On Monday June 7th 2010 David Weinfield wrote 'Ticker Free Day 2010: Fighting Digital Signage Ticker Abuse' and came up with the idea of today…
A day that should see digital screen networks everywhere abstain from using tickers on their displays.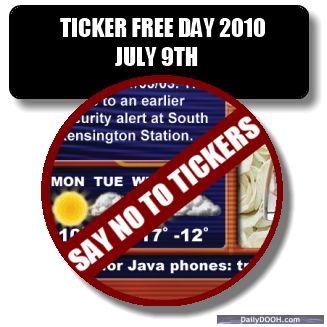 As David told us "ticker free day is meant to bring awareness to the rampant abuse of text tickers, RSS tickers, stock tickers throughout the digital signage industry".
This is a serious attempt at helping networks improve. We hope that content providers, networks themselves and the industry vendors take note.
We have focused all of today's posts and editorials over to #tickerfree2010 – our regular contributors today (Manolo, Dylan, Alex) and Guest Contributors David Haynes and David Weinfeld are amongst some of the most experienced and respected voices in the industry – particularly in the fields of content and usability.
We hope that folks will pay heed to what they have to say.