Gail Chiasson, North American Editor
AddMirror's new interactive mirror officially launched in Calgary resto-lounges earlier this month.
Targeting young, urban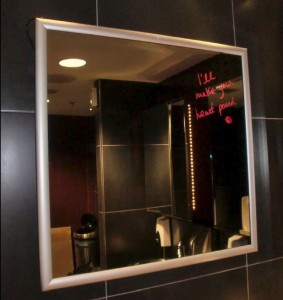 upscale audiences, AddMirror has initially partnered with six venues that offer classic, fine dining or are cool, vibrant hot spots.
Additional Calgary locations will be announced shortly.
AddMirror's exclusive resto-lounge network serves Toronto, Montreal, Vancouver and Calgary.
Since launching in Fall 2009, a number of high profile advertisers, including BMW, RIM, Bell, Absolut vodka among others, have taken advantage of the innovation and impact offered by AddMirror.