Gail Chiasson, North American Editor
PZ Cussons, the multi-national consumer goods company, has relocated from its base in Stockport, U.K., to a new 40,000 sq. ft. headquarters in the Manchester Business Park, completes with installations of Christie Digital Systems' MicroTiles.
The new purpose-built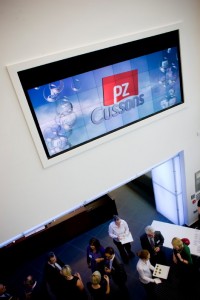 office will provide a modern and stimulating work environment better suited to the future needs of the Group as it continues to expand its international business.
Manufacturers of Imperial Leather and Carex products, and leaders in the personal wash market, PZ Cussons was looking to create a 'wow' factor at the entrance to its new flagship site, which is endowed with an imposing atrium. This has been provided with the first European installation of Christie's new-generation MicroTiles media display.
Installation was carried out by Lancashire-based Pure Audio Visual Ltd., under the supervision of Alan Marshall, divisional director.
Original discussions had begun in the autumn of 2008 when Marshall was working in the AV division of an office fit-out company. PZ Cussons' interest at that time was in purchasing furniture, but after Marshall had moved to Pure AV, he maintained the contact and was soon discussing with PZ Cussons' IT team different ways in which digital signage could enhance the company's brand values and perception.
"As the atrium was glazed on two sides, this presented a conundrum," says Marshall. "Initially, we considered projectors – but then I had a meeting with Joe Graziano, (Christie's market development manager for MicroTiles) and he told me about this new product."
First seen in Europe at the ISE Show in Amsterdam, the unique MicroTiles digital display technology enables a virtually seamless digital canvas to be created to almost any size, shape or scale, and offers great viewing angles and spectacular, crisp visuals at any distance.
As we've mentioned numerous times in other articles, MicroTiles modular tiles can be stacked and clustered like building blocks, using an entirely new, advanced optical design that produces unparalleled levels of brightness, contrast and colour reproduction – and boasts a near absence of seams between the tiles. The system is designed for long, reliable commercial use in public areas, with no lamps or other consumable parts to replace, precisely what was required at PZ Cussons' new quarters.
After Ged Bithell, PZ Cussons' head of IT international and Chris Colesell, head of IT U.K., attended a MicroTiles demonstration at Christie EMEA HQ in Wokingham, the deal was sealed.
Since there was not a great deal of space in the atrium, and certainly not a great depth in the wall, MicroTiles fitted the bill perfectly. Aside from the almost lack of seams, the resolution and non-reflectivity of the screens was another key factor, and the high brightness of the display was able to punch its way effortlessly through the natural environment.
Says Colesell, "We had been told by our steering group to look for something that would create a 'wow' factor and engage with people – not a standard six screens welded together to deliver death by Powerpoint. We took our own video of MicroTiles and when the steering group saw it, they needed no convincing."
Pure AV worked closely with the architect, Peter Fearon-Brown from CBRE, and fit out the contractors, Preferred Office Environments, to accommodate a wall, conventionally configured in an 8 x 4 landscape display, mounted five metres above the ground in the open foyer.
The display (which measures 3.5m x 1.2m) is optimized to enable a resolution of 4800 x 2048. This allows hi-def content with a stereo audio feed to be broadcast.
The content itself has
been compiled by SPL, PZ Cussons' regular video production company, and Pure AV. which created graphics and edited the programme into a 30-minute rolling show (with the storyboard written by Marshall himself).
He says, "We put an AMX system in to control the videowall. This allows the client to select templates in terms of background and choose stock content from a library of video players, import it and schedule it. There are three video servers feeding the system and a scaler with various inputs."
Since the wireless touch panel is on PZ Cussons' wireless network, changes can be implemented from anywhere in the building.
The MicroTiles wall has been carefully located so that it can be easily seen off axis from each of the landings. Although the display will serve a vital role in reinforcing the new image of the company – and will even take live feeds from the company's factories overseas – neither Marshall nor Colesell were under any illusion that its first mass gathering wouldn't be for this summer's FIFA World Cup.
Colesell says, "This not only fits the space perfectly but it also fits our culture of being innovative. Our company ethos is about 'Making the ordinary, extraordinary.' MicroTiles certainly achieves that."