As the owner of two iPads, three iPhones and more MacPros and MacBook Pros than you can shake a stick at, what is more useful than an app that allows one of my iPads to be a second screen to one of my laptops?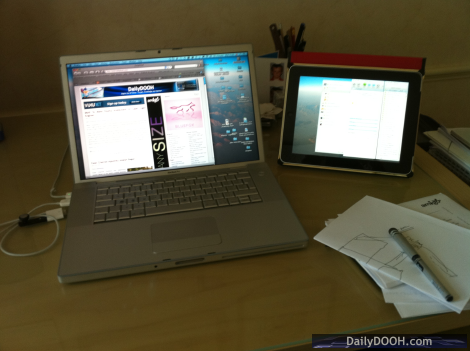 No wires required, easy to set up, automatically configures in only the way Apple and third party apps that have been given the green light by Apple know how to achieve – Genius, Insanely Great, Magical even … Air Display ROCKS!!
For me (and OK yes, I am a bit of an Apple obsessive having used them since 1985) this is nirvana. I can have an extra screen when I need it – I use 6 virtual desktops on my MacBook Pro – and an iPad when I need it – my laptop is now my desktop, my desktop is now a workstation and yesterday using only my iPad, I gave a presentation with Keynote in a clients' office hooked up to a 42 inch LCD with NO TECH ISSUES whatsoever!
All my documents, presentations and showreels are available via my cloud based storage space (I use a combination of Dropbox, RevX and iDisk) and I have instant access to anything on any device, wherever I may be and however I might want to deliver or access it. Easy. Light. Connected. And the way it should be.
Oh yes and the iPad seems to do digital signage quite nicely as well.