Adrian J Cotterill, Editor-in-Chief
Ocean Outdoor's landmark site at Battersea Power Station launched a large format outdoor advert for Reebok featuring Kelly Brooke this morning (Wednesday 4th August).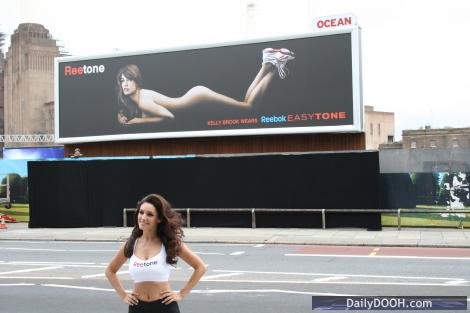 The poster, which sees Kelly Brooke posing in nothing but a pair of Reebok EasyTone trainers, was unveiled by the model herself on Ocean's 96-sheet site on Battersea Park Road earlier today (shown above).
Running for 2 weeks from 4th until 15th August, the advert sits against the iconic backdrop of Battersea Power Station, which is passed by 670,000 people a fortnight.
Richard Malton, marketing director at Ocean Outdoor told us "The fantastic positioning partnered with the striking imagery creates a high-impact campaign for Reebok. With such an iconic back drop behind the ad and Kelly Brooke unveiling it, Reebok can expect a high return on investment. "
The campaign is supporting the UK launch of the EasyTone products earlier this year; the campaign aims to show women under 30 that wearing the trainers can help tone muscles. The tagline copy states 'Kelly Brooke wears Reebok EasyTone' alongside an eye-catching picture of her lying naked on her stomach flaunting the trainers.