Adrian J Cotterill, Editor-in-Chief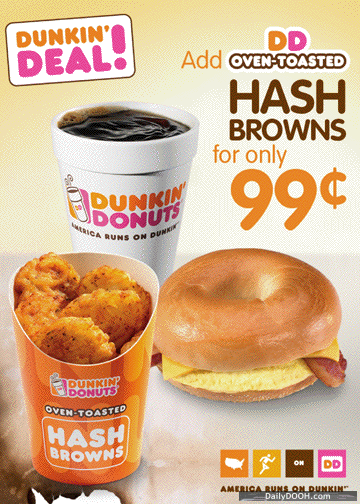 We met with Barry and his team at YCD Multimedia when we were last in New York and got a glimpse of their new brand (and web site – now both announced and launched of course) and had a sneak peak at some of the retail work that they have been doing. This project with Dunkin' Donuts was one of them (there are more retail stories to come from these folks as they forge ahead in that direction) and what we see so far looks good.
Smart Digital Media Application Designed to Influence Customer Purchasing Behavior for Increased ROI

NEW YORK, NY – August 21, 2008 –YCD Multimedia announced today that it has launched a pilot test of its onsite digital media applications with Dunkin' Donuts franchisee, Kainos Partners, designed to drive increased revenue and profitability in the Buffalo, NY test stores. YCD Multimedia's innovative, integrated software solutions will give Kainos Partners flexible tools to remotely deliver and manage targeted promotions and offers onto the purpose designed YCD AdScreens located at the point-of-decision in the test stores.

In addition, YCD Multimedia is working with research and strategy partner, Technomic, to provide analysis of real-time transaction data. Utilizing the YCD|Platform the parties will be able to update and modify promotions in real time, based on actual sales data of promoted products and special offers. The content for the pilot is being created by St. Joseph Content | Alchemy, provider of performance-focused creative content for out-of-home digital media. According to Michael Chase, VP, Marketing & Creative – St. Joseph Content, "The YCD Multimedia technology used in this pilot has allowed Alchemy to take advantage of dayparting, thereby creating exceptionally targeted content that is always relevant to the Dunkin' Donuts audience throughout the day."

"We are excited to partner with YCD Multimedia for this pilot program, which is a major marketing initiative for us," said Steven Galloway, President, Kainos Partners. "YCD Multimedia understands our specific business objectives, and offered us an innovative approach to marketing our brand and products for better return on our dollar."

The pilot has been designed to meet four core strategic objectives for Kainos Partners' Dunkin' Donuts stores:

Drive awareness and trial of Dunkin' Donuts healthier menu offering
Increase sales for the new "Oven Toasted Menu" product line
Promote Dunkin' Donuts premium coffee
Communicate the Dunkin' Deals value proposition

YCD Multimedia customized the three month pilot program by assessing Kainos Partners' strategic objectives and each of its Dunkin' Donuts stores' unique characteristics including location, size and in-store customer behavior. YCD Multimedia's solutions include YCD|Platform, YCD|Player and AdScreen™ dynamic point-of-sale displays.

"YCD Multimedia brings an unprecedented level of media accountability to the retail environment," said Barry Salzman, Chief Executive Officer, YCD Multimedia. "YCD Multimedia's turnkey end-to-end solution will enable the test stores to 'close the loop' between promotions and sales, and make changes to optimize in-store promotions in real-time."
We particularly liked the content and the focus on demonstrating ROI.