Gail Chiasson, North American Editor
At a Best Western
Hotel in Brampton, Ont., this weekend, we noticed a bright, nicely placed, nicely sized Samsung screen in the breakfast area off the lobby.
However, the digital screen was incredibly busy with no less than eight different sections, with an ad taking up the largest section and others with weather, sports, news, date and time, U.S. dollar value, and traffic information, much of the different information provided by Toronto's CP24 radio and television. While, admittedly, people spent a fair amount of time over their continental breakfast, waiting in line to make their own waffles (rather fun and different), or checking in and out in the adjacent area, it was difficult trying to figure out what to watch.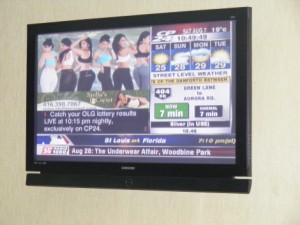 But what's strange is that we couldn't find out what network or software was behind the screen. The pleasant ladies at the front desk didn't know, and couldn't come up with an answer even from a manager.
"We're part of a chain and all we know is that someone came in and installed it," we were told.
If anyone knows, we're simply curious. (A smaller, separate TV screen – we believe computer-controlled for messages – on a post in the lobby simply was blank.)