Estée Lauder, who signed a contract with EYE early this year is starting to make use of EYE's offerings and advertising space at Singapore Changi Airport – one of the most well-trafficked airports in the world.
EYE has more than 200 static, digital and ambient advertising opportunities across five terminals at the Airport.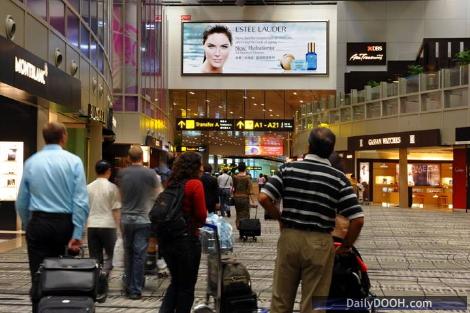 [1]
The deal is expected to boost Estée Lauder's brand and product visibility among arriving, transit and departing travellers.
Commenting on why Estée Lauder elected to work with EYE, Kay Shuyin, Regional Marketing Manager of Estée Lauder Travel Retailing Asia Pacific told us "Singapore is a key regional hub for South East Asia and media presence at Changi Airport is a natural choice. The EYE team showed a great understanding on airport processes, brand needs and guidelines to provide Estée Lauder with flexible creative media solutions".