Gail Chiasson, North American Editor
With children as young as two and three getting adept at using computers, playing with Mattel's new Barbie Video Girl should be a snap for the six-years-old-and-up target market.
A regular 11-1/2 inch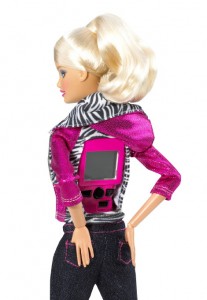 fashion doll packed with innovation, Barbie Video Girl comes with a built-in video camera and screen allowing girls of all ages to play with Barbie in a whole new way.
Barbie Video Girl features a camera lens in her necklace and a color LCD screen on her back (hidden by a hoodie when not in use), which features 'real time playback' capability and is powered by batteries in her legs (2-AAA). With close to 30 minutes of recording time, girls can now capture moments through Barbie doll's own point-of-view.
Barbie Video Girl also has a USB port for uploading video to the Web and comes with free editing software (available at Barbie.com), so girls can transform raw footage into real movies by adding music, sound effects and visual effects. Barbie Video Girl holds 256 MB of memory, shoots video in standard definition and video files can be downloaded as .avi files. (We've tried to find out if the technology was developed in-house or with in association with another company, but, so far, no word from Mattel. Ed.)
Honored at the Nuremberg Toy Fair as one of the innovative products for 2010, Barbie Video Girl Is already available in the U.S. and will soon be available internationally in Mexico, Brazil, Canada, Australia and in major European markets for about US$50.
When launched in July in the U.S., an ad campaign promoted the doll with a scavenger hunt in San Francisco, Los Angeles, Chicago and New York, as well as via Barbie's signing onto social networks Foursquare and Twitter to promote her latest career as videographer.
Fans 18 and older who followed 'Barbie Roberts' on Twitter at @BarbieStyle and on Foursquare were given oblique clues about where Barbie and the Mattel street teams would be located in the four scavenger hunt cities. The winner of the hunt in each had to present something pink to the street teams, or to show their mobile phone displaying either a Foursquare check-in at the location or the original Barbie tweet of the clue. The first to find Barbie and her team in each of the cities received a Barbie Video Girl doll.
Mattel got involved in social marketing as a marketing platform a year ago as part of a major campaign in support of Barbie's 50th anniversary. An in-depth study of the brand found that Barbie is a brand for girls of all ages, and that 50% of the brand is in licensing, including adult products, entertainment and a collector business. To reach those older audiences for the U.S. launch, Mattel broke from its traditional TV spots to target the 20-plus age group. It also allowed the company to give Barbie a voice, a last name (Roberts) and a home address (Malibu, Califirnia).
The Video Girl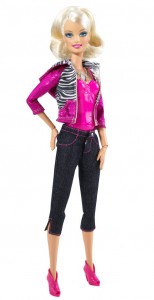 scavenger hunt was also promoted on Barbie's Facebook page and on a blog written in her voice. The Facebook page and Twitter account were launched originally for the 50th anniversary. The doll launch was also promoted by outreach to bloggers.
This fall, Video Girl Barbie's U.S. promotion will involve user-generated video. That contest will be geared more to kids and will exist on the main website, www.Barbie.com. (We hear that Barbie's friend Ken will also be getting involved in the social media scene. Ed.)
No date has yet been announced for Video Barbie's international launch, but we're hoping that it won't cause a pre-Christmas customer battle 'à la Elmo', which caused too many broken hearts. We'd hate to think Barbie would want to take responsibility for that – or that she's secretly got a job as a news photographer filming parents fighting over her!