Adrian J Cotterill, Editor-in-Chief
Not content to rest on their laurels and have simply a forecourt network which comprises 1600 venues nationwide, delivering over 35million audience impacts every fortnight, Amscreen have just announced that they are expanding their offering north of the (English) border in an exclusive deal with CJ Lang's SPAR store network in Scotland.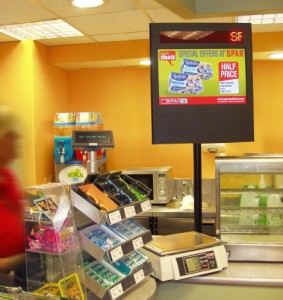 The five year deal, with the largest convenience store network in the region, marks the launch of Amscreen's neighbourhood convenience network.
The deal will see digital signage screens installed into 91 SPAR-owned stores across Scotland and will provide support to their retailers by promoting the latest offers and company updates. In addition, the network will carry national advertising, which will be sold by Amscreen's media sales partner, Digicom.
Simon Sugar, CEO at Amscreen told us "We are delighted that CJ Lang is the first to benefit from the neighbourhood convenience network. Our screen expansion reinforces our position within the industry that we deliver on results and are able to cater to multiple sectors, which will also be proven in our portfolio of future announcements that we will be making throughout the year."
CJ Lang, which supply to all of Scotland's 380 SPAR stores dominates the independent market and is the first to benefit from the new neighbourhood convenience network. Amscreen hope the deal will reflect the success of the forecourt digital network (which has already attracted the likes of Amex, Visa, B&Q, Camelot, Red Bull and Lucozade as advertisers).
Philippe Rondepierre, Business Development Controller at SPAR Scotland told us "The initial trial which we carried out in a handful of our SPAR-owned stores, demonstrated that Amscreen would make a positive contribution to our business. Working with a media outlet such as Amscreen allows us to cater our promotions and offers to our audience in a new, unique way that is sure to catch their attention."