Adrian J Cotterill, Editor-in-Chief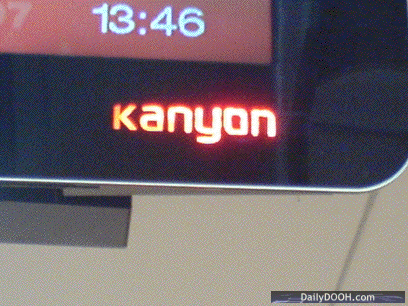 The big outdoor folks do it – you always see a very clear 'JC Decaux', 'Stroer' or 'Titan' on the bottom of their traditional billboards (sometimes these folks even remember to light them up at night) but it is often rare in our digital world to see such own-branding.
If it suits your business model (and / or your venues do not object, they may even want to join in with the branding) you should always reserve some time on your on-screen content wheel to put up your own message and logo.
However there is also a space non-digitally – perhaps on the physical screen surround itself as shown above.
By far the best example of this on-display-itself branding that I have seen has been in Turkey.
Kanyon is a large Shopping Mall in Istanbul and they have their own screen network.
http://en.wikipedia.org/wiki/Kanyon_Shopping_Mall,_Istanbul
What they had done, was put a silvered-frame (surround) around the screen itself with their brand 'Kanyon' cut into the frame. A simple battery powered LED behind the frame, lit up 'Kanyon' in red and made it very visible.
A very neat and simple idea.