Gail Chiasson, North American Editor
The Forzani Group Ltd., Calgary, Alberta, and Viva Group, Boisbriand, Quebec, have reached a long-term agreement for a digital display project across the Forzani Group's franchised banners in Quebec.
The agreement
follows a pilot project in Calgary. Rollout has now commenced with about 80 screens in approximately eight stores. When fully deployed, there will be between 90 and 100 retail outlets involved.
The strategically placed digital screens in stores display a combination of synchronized sound and visual programs aiming to optimize the consumers' experience and the scope of the in-store marketing messages. They work with a BroadSign platform.
For now, the agreement covers the Sports Experts and Hockey Experts banners. In addition to the advertising by products carried by the banners, the company will open the network to outside advertisers in a few weeks time, says Maxime Bugeaud, director of marketing and digital ad sales, Viva Group.
"Our clientele is made up of active families and requires dynamic and attractive environments," says Marc Poirier, marketing director for the Forzani Group. "In addition to meeting this objective, these screens and their contents are considerably improving our in-store communications and supporting our national merchandising plan."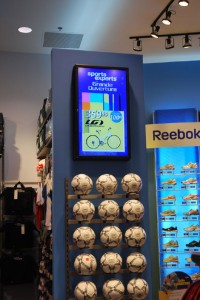 The entire mandate for this project was granted to Viva Group, a firm specializing in point-of-sale digital marketing, from deployment to programming and content development to daily management of the network.
The Forzani Group Ltd. is Canada's largest national retailer of sporting goods, offering a comprehensive assortment of brand-name and private-brand products, operating stores from coast to coast, under the following corporate and franchise banners: Sport Chek, Sport Mart, Athletes World, National Sports, Sports Experts, Intersport, Atmosphere, Techshop, Nevada Bob's Golf, Hockey Experts, The Fitness Source and S3. The Company also has websites for several of its corporate and franchise banners which can be accessed through its main website.
Viva Group markets thousands of screens across Canada and feeds a customized programming to each of its clientele's networks such as: La Cage aux Sports, L'Aubainerie, Monsieur Muffler, Sports Gilbert Rousseau and Houston restaurants. The company is currently also running a new pilot product for Canac hardware stores.
Viva Group also operates Viva Urbain, a digital display media mainly located in businesses, places of public use and health care institutions of local communities in the province of Quebec.