Gail Chiasson, North American Editor
Omnivex Corp., Concord, Ontario-based provider of enterprise software for digital signage networks, has deployed its Moxie software on Destination Shuttle Service's airport shuttle buses at Los Angeles Airport, called Shuttle Smart.
The deployment also
includes interactive kiosks placed in the lobbies of Destination Shuttle Service's partner hotels. The system aims to enhance the hospitality experience by providing passengers with relevant travel, hotel and city information while on the buses and within the hotels.
Destination Shuttle Service's provides hotel shuttle services for over 2.5 million people annually both to and from LAX and the surrounding hotels. The company wanted a way to effectively communicate with its passengers, welcoming them to town when they arrived and thanking them for their visit when they departed.
Using Omnivex Moxie software and Microsoft Windows 7 location-based services, GPS coordinates are sent via cellular network to the Omnivex server in real time, indicating the current location of the bus. Omnivex GPSLink is used to combine this information with intelligent rules to determine the most appropriate content to display based on the current location. The screens inside the shuttles show information appropriate to travelers; information changes, based on whether the shuttle is carrying arriving or departing passengers.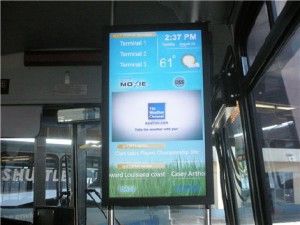 Inside the hotels, a large touch screen running Omnivex software delivers interactive content and information for hotel guests. Omnivex GPSLink delivers the information to Omnivex Moxie to display the locations of the shuttles in the area on a map, along with the estimated wait times before the next shuttle arrives at the hotel. The content also includes information such as flight departure status and advertising about local sites and attractions. Back at Destination Shuttle Service's operations center, Omnivex software displays the position and status of all Shuttle Smart buses for the network operator.
"The hotel industry as a whole is known for its hospitality," says Brian Clark, managing partner at Shuttle Smart. "Our goal is to extend that hospitality to the curb at the airport. Omnivex allows us to know exactly where each bus is in real time, so our dispatchers know where each bus is and our clients know when the next bus will arrive. We wanted to give our customers an effective tool to set up routes, identify points of interest and manage their fleet with ease."
"Leveraging the power of Windows 7, Bing Maps and Omnivex Moxie, we are able to extend digital signage to new markets and improve customer experiences," says Jeff Collard, president of Omnivex, a Microsoft Gold Certified Partner.