Adrian J Cotterill, Editor-in-Chief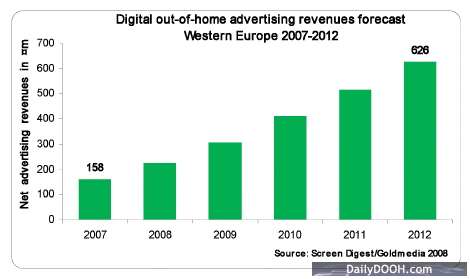 Personally we would never have thrown Switzerland into the mix when media analysts Screen Digest and Goldmedia in their recent collaborative report state "After initial success in the UK, the Netherlands and Switzerland within the past few years, digital out-of-home media – advertising on public displays – is now gaining momentum in other Western European countries" but apart from that what they say makes a lot of sense and interesting reading.
Not only do they say that Digital out-of-home media is bucking the overall sluggish advertising market but they go on to say that "Expenditure for advertising on digital screens in Western Europe to reach €626m by 2012"
The report entitled 'Digital Signage in Europe – The opportunities for digital out-of-home advertising' examines the digital out-of-home media market in Western Europe and covers what we would term (rather succinctly we think) High Impact, Retail and Captive Audience sectors whereas they cumbersomely have to use the sentence "advertising on digital displays installed at various locations, e.g. airports, stations, trains, supermarkets and other public places"
Screen Digest forecast that digital out-of-home net advertising revenues in Western Europe will quadruple over the next five years from €158m in 2007 to a forecast of €626m by 2012.
Advertising on digital screens will grow from 3.1 per cent of the total out-of-the-home media expenditure in Western Europe to over 10% by 2012
There are a couple of things with disagree with in the report.
First is their statement that "the market for digital out-of-home advertising has been driven by the decreasing costs of large flat panel displays" – in our opinion it has little to do with what it costs to setup a network AND especially in the High Impact sector it is more a case of how much more revenue a 'digital display face' can attract than a traditional static one – we reckon 6 to 15 times more revenue.
The report contains some other anomalies because right after making the statement above they go onto say "Digital displays allow for more creative and flexible advertising campaigns that can generate higher return on investment. The most attractive new digital sites, such as 'Digital Escalator Panels' and 'Cross Track Projection' recently installed in the London Underground network by CBS Outdoor UK can generate three to 10 times more revenue than static formats"
Interestingly they reckon that the UK is by far the largest and most developed market in Western Europe (we would just about agree with that) followed by Switzerland and the Netherlands – seriously we are NOT sure how Switzerland figured in that but the UK and the Netherlands have been, for 6 or 7 years now at least the most developed markets for digital signage.
Our belief – Germany will be the biggest by the end of this year.
Their figure of 0.9% for the digital portion of the total French out-of-home expenditure looks low as well – we would have thought more like 2% – 3%.
Anyway it's a very good report and well worth a read. Vincent Létang, Senior Analyst for Advertising at Screen Digest and editor of the report told us "Thanks to the migration to digital and the incremental revenues generated, the out-of-home sector will be the only media to post real revenue growth in the next five years while traditional media are challenged by a sluggish ad market and competition from the internet."
About Screen Digest

Screen Digest is the pre-eminent firm of industry analysts covering global media markets. Headquartered in London, with offices in New York and Carmel, California, we employ a team of 40 specialist analysts covering film, television, broadband, mobile, cinema, home entertainment and gaming. Our online services and reports provide the information and analysis upon which hundreds of media companies worldwide base their decisions. Most recently we have launched Global Media Intelligence (GMI), a new service which provides research and analysis specifically for media-focused institutional investors. www.screendigest.com. To find out more, please contact Screen Digest sales sales@screendigest.com Tel: +44 (0) 20 7424 2820
About Goldmedia

Since 1998 Goldmedia has provided national and international clients with high quality consulting and research services in the fields of media, entertainment and telecommunications. Goldmedia offers: in-depth analysis of markets and competitors; forecasts and strategic consulting services; the implementation of new business models; and consulting for restructuring whole companies, including M&A processes in the field of corporate finance. Goldmedia-Group: Goldmedia GmbH Media Consulting & Research, Goldmedia Sales & Services GmbH and Goldmedia Custom Research GmbH. The company's head office is in Berlin, Germany. Goldmedia is a member of the international network European Media Consulting Association – EMCA. www.emca.tv