Adrian J Cotterill, Editor-in-Chief
This year so far we have done (and pretty much endorsed) ISE, DSE, NAB, CETW (nee KioskCom), ScreenMediaExpo and InfoComm and still have #DSinvestor, #ViscomFFM, #DOOHBizKonf and another #CETW yet to do!
As Ken Goldberg kindly said of us back in July "Some subset of the team is at virtually every industry trade show and conference worldwide, logging enough flight hours to make anyone wonder how they know what day it is" and these last few days saw us add IBC to our already busy itinerary.
So, was it any good? Was it relevant to the digital signage industry? Did we enjoy it?
Well yes, no and yes in that order. In fact I think we slightly fell in love with IBC – it's actually nice going to a show where (a) you are not known and (b) you get to meet new people, new companies and see different types of technology (in this vertical sector I am still learning and our Technical Director Andrew is going back to his roots as his first ever startup company supplied services to BBC TV programmes such as Today's The Day) AND although we would probably both prefer to be in sunny Las Vegas than a rather dreary and often wet Amsterdam (though it was warm enough to sit outside of the evening) we thought that this year overall IBC was a better event than NAB.
Even though hotels took the mick with ludicrously expensive room rates, Amsterdam itself opened its arms to attendees – the sponsorship of a number of facets at the show by I AMSTERDAM was fantastic. Little things for attendees like free 4 day travel passes on the tram were nice, and free wi-fi at the RAI when you could find it was also good. Taxi drivers were polite, restaurateurs civil and even the shop owners knew why all these people were in their city.
This is a broadcast show of course and no-one in the digital signage sector need take it seriously. STRATACACHE (who usually exhibit but didn't this year), BARCO, Harris Broadcast, Christie Digital, ONELAN and never.no are usually all in attendance as exhibitors because they play in the broadcast, digital cinema and / or IPTV space. Other (DS) vendors / players needn't bother! And truth be known IBC doesn't need them – the event organisers already have nearly every hall filled and with 45,000 folks in attendance and nearly every Amsterdam hotel room filled, seriously how big do they want to be?
Our sole complaint about NAB is that it is too big, too spread out and has been for the last few years getting wildly unfocussed – we cannot tell you how many VP Marketing peeps tell us that they hate that show!! That's not somewhere that IBC really wants to go now is it? Our recommendation is that IBC should feel the love they have now and work on getting the event even better rather than aiming for domination of any other sectors.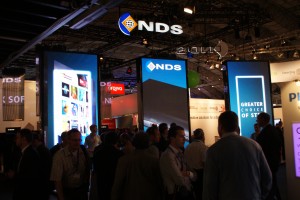 As you would expect most probably from the broadcast industry there was a quality about the majority of the stands – some of the seating and bar arrangements on offer were fantastic. The most striking stand to us was that of NDS – it struck you the minute you walked in the hall with three large portrait style LEDs (these were huge – probably 14ft tall) and yet the stand inside was cosy, comfy and discrete – each subsection / area had its own stool arrangement which allowed an NDS staff'er to sit and present to potential customers.
As we said yesterday, with the exception of the Digital Signage Zone the IBC Connected World in Hall 9 was pretty impressive. Mobile isn't quite there yet as a standalone zone but we are sure it will be next year. IPTV is just now taking off.
We won't labour the point we made yesterday but when ISE can fill up almost 2 halls with quality digital signage it should be obvious by the results of the last few years that IBC shouldn't bother.
We made mention in previous posts that both Christie Digital and Panasonic had two-tiered stands (someone told us that Harris Broadcast had a two-tier stand last year but we don't remember that if they did) and this is a trend that we think will continue as space at the event continues to be at a premium.
Harris's stand was huge but was still only 37% the size of their one at NAB. It was pretty easy to get lost in and again (as it was at NAB) big enough to have its own cafe in the middle.
Sony pretty much owned Hall 12 with a stand which left room in the entire hall for only a handful of other exhibitors to be around the outside (Hall 12 was the main digital signage hall at #ISE2010 of course).
There wasn't much gossip relevant to our sector at the show, however…
Denise MacDonell from Harris re-affirmed to us their commitment to the industry, how seriously they are taking it and that they want to be seen to be a part of it (this of course is a breath of fresh air compared to the likes of Cisco who think they don't need to invest and belong). Denise told us what shows they would most likely support next year from a DS perspective and it's very likely that we will see them at ISE in Amsterdam in February, DSE in Vegas also in February, ScreenMediaExpo in London in May and Infocomm in Orlando, Florida in June (that's apart from their other corporate commitments at broadcast and other vertical shows).
On the other hand, the CEO of one of our #DSTop10 vendors told us that they would most definitely not be supporting DSE next year which we thought was interesting.
We also heard about a certain digital signage vendor for sale yours for USD 80 million
UK something or other BITS AV may well have gone tango uniform
Lastly for show organisers (and for the corporates who are desperate to know who the key influencers are) it's well worth re-iterating the lessons learnt from our social media twitter monitoring and capture – have one single hashtag, stick with it, promote the hell out of it and most importantly JOIN in the conversations that people are having around it.
As we made mention in our post 'Twitter Activity Update For #ibc2010' "traffic is largely fragmented separately across three hashtags … we should have had one large community using one" – that's a big mistake from the organisers and something you don't want to happen. Also, we heard from many other folks that the person or persons on the end of @ibcshow were unresponsive to DM or replies – that's a shame as it is their role to act as moderator and nudge all the tweets in the right direction.
Overall then a damn good show that could and should only get better (and give NAB a run for its money) but it's not a show for digital signage and never will be.