Adrian J Cotterill, Editor-in-Chief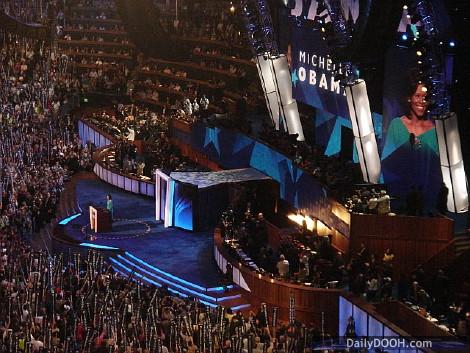 Screens.tv covered the SkyNet LED and Broadsign deal at the recent US Democratic Convention very well (brief excerpt below) BUT surely no one gives you exclusive pictures as well as us?
This picture was taken by a female delegate to the convention!!
SkyNet debut

Another digital-signage major involved in the Democrats' convention in Denver was BroadSign, whose technology was seen in the giant SkyNet LED sign used in the main stadium there late last month.

Linking up with Advance Display Technologies (ADTI Media), BroadSign says that audience response to the SkyNet LED technology was extremely positive, with the scalable mesh display giving a bigger and brighter alternative to conventional LED screens.

The Denver event was the first commercial deployment for ADTI Media's SkyNet technology, which uses a flexible screen to wrap around the structure of large stadia and, thanks to water resistance, can be used in near-open-air situations if required.

The 44-by-31-foot SkyNet screen seen at the Denver event was mounted above the entrance to the Colorado Convention Centre and featured closed-captioned news, announcements and directions for the Democratic convention delegates. The entire installation was paid for by advertising that occupied a portion of the display airtime, according to BroadSign.

Jody Thomas, ADTI Media's chief technology officer, said that the mixture of static, Flash and video content was remotely edited and controlled from the firm's North Carolina offices, and relayed across a secure connection to the SkyNet installation in Denver.