Adrian J Cotterill, Editor-in-Chief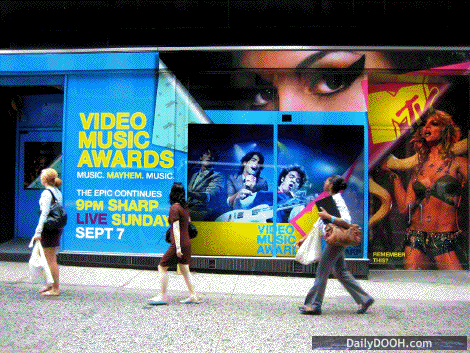 This display for MTV at 317 Madison was created by Inwindow Outdoor in partnership with SL Green, the City of New York, the Grand Central Business District, Monster Media, Hyperspace and Posterscope.
The vacant retail space was transformed into an interactive advertising display encouraging pedestrians to tune into the MTV awards event (broadcast last Sunday of coursse).
As people pass by the site, the display flips to scenes showcasing several artists expected to perform at this year's VMAs.
Steve Birnhak, CEO of Inwindow Outdoor told us "MTV is one of the iconic global brands and we are excited to be working with them to showcase our interactive capabilities. It was important to MTV that this display be created in Midtown, and this location is fantastic because of its proximity to Grand Central. The interactive nature of the display is sure to attract attention and help MTV reach its viewership goals"
About Inwindow Outdoor

Located in New York City, Inwindow Outdoor is an innovative outdoor advertising company that specializes in providing advertisers with high profile messages in prime storefront locations throughout the United States. Our client list includes well-respected national brands such as AT&T, Discovery Networks, Jeep, Motorola, Conde Nast, CW Network, ABC Television, Starbucks BMW and Lexus. The company was founded in 2002.