Adrian J Cotterill, Editor-in-Chief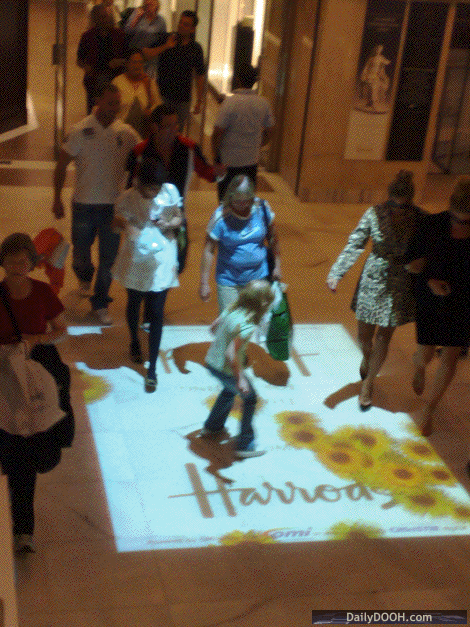 More interactive floor stuff and like giant vinyl wrapped window displays very much the 'thing of the moment' – this one is in Harrods.
OM Interactive the folks behind this have recently done installations, of what it calls "its' range of immersive platforms" at the refurbished Blackpool Tower, Madame Tussauds as well as Harrods.
If you are in London and haven't seen their interactive wall at the Madame Tussauds facility it's well worth a look also.
About OM Interactive Limited

The UK based developer has made immersive recognition their specialization, bringing their latest technology and development experience to this growing market. OM Interactive with their 'Gesture-Recognition' based 'OMi-Vista'- Interactive Video Projection system, presenting a wall or floor projection that can be manipulated. The 'OMi-EyeTouch' offers an interactive window projection system, and the 'OMi-EyeBoard' that brings an interactive multi-touch interactive table to any type of venue. OM Interactive have also produced the 'OMi-Beam' – Interactive Light system where 'breaking' of beams will activate pre-programmed audio visual events. All from a company that has created and developed a suite of interactive systems and content that are focused on bringing a simple but compelling experience to locations as varied as leisure & visitor attractions, retail, promotional and special needs & education.