Adrian J Cotterill, Editor-in-Chief
Amscreen today announced that it has been appointed by food and drink wholesaler Booker as its exclusive digital signage partner. The five year deal will see Booker's Premier stores broadcast on Amscreen's new neighbourhood convenience network.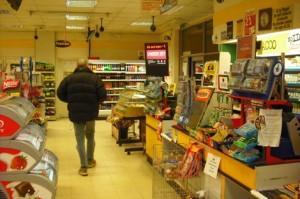 Booker Premier is the first nationwide partner to join the network, following the recent regional account win of CJ Lang/Spar in Scotland.
Booker, which operates over 2,500 Premier retailers, will be recommending Amscreen's solution to its leading independent Premier stores across the UK. This digital network will provide additional support to Premier retailers, help promote current product offers and provide consistent messaging across the selected retail outlets. The network will also carry some national advertising.
Simon Sugar, CEO at Amscreen told us "We are thrilled that Booker Premier is one of the first to benefit from the neighbourhood convenience network and are pleased to offer them the opportunity to communicate electronically with their customers and in real time. It is also the perfect opportunity for advertisers to reach an audience when they are at their most captive. We look forward to replicating the same success that the forecourt network has achieved."
Research commissioned by Amscreen through Digicom to investigate advertising effectiveness in neighbourhood convenience stores shows that a third of respondents visit their particular store daily, whilst 49% of respondents are on a journey to visit that specific store.
EPOS trials have shown that Amscreen's screens in the forecourt network drive sales uplift of up to 50% on advertised products, and with similar high-profile screen positioning the neighbourhood network hopes to deliver similar success.