Adrian J Cotterill, Editor-in-Chief
Goa Billboards commissioned the third of its digital 'big screen' billboards in Brisbane earlier this week. Joint managing director of goa Billboards Chris Tyquin told us "the digital billboards are proving overwhelmingly popular with advertisers enjoying benefits such as access to high-traffic areas, cost savings, and new creative abilities"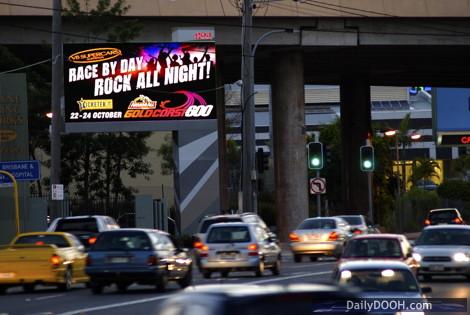 He added "The message can change every hour, offering advertisers unprecedented creative flexibility and the ability to showcase multiple products, prices and promotions,"
McDonalds has already used the digital billboards to advertise its breakfast, lunch, and dinner menus at appropriate times during the day with McCafé being promoted for morning and afternoon tea.
Chris Tyquin added "We're also offering more flexible options with booking and lead times. Advertisers can book a display period of just one week, and our shorter lead times mean they can effectively book today and be showing tomorrow"
We also believe that advertisers can book just one site or the entire network AND like other digital billboards the world over it seems to be opening up outdoor advertising to industries previously not utilising the medium, such as the big retailers.
Goa's screens are located at premium locations with head-on viewing on major arterial roads facing city-bound traffic in inner Brisbane suburbs Bowen Hills, East Brisbane and Kedron at strategic points adjacent to tunnel-network entry points to capture both tunnel and bridge drivers.