Adrian J Cotterill, Editor-in-Chief
Touchscreen campaigns at airports are still quite unusual so it was interesting to see this 'Lonely Planet' campaign for Dell Computers at London Heathrow Terminal 5 when we flew back from Munich on Wednesday.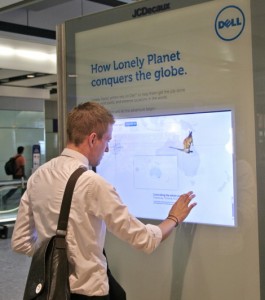 The creative seems to highlight scenarios that might be familiar to 'Lonely Planet' travel writers; from the loss of a laptop, to dropping it, to working and emailing on the move and then proceeds to show how Dell's services can overcome the challenges facing business people on the move.
The campaign even features 'Lonely Planet' co-founder Tony Wheeler.
JCDecaux's web site says that the campaign first ran 7 September to 27 September with subsequent campaigns running from 25th October to 29 November 2010 (the one we must have seen) and then again from 10 January to 6th February 2011.
The website also says that Dell's campaign was booked with JCDecaux Airport through PSI and Mediacom.