Gail Chiasson, North American Editor
Clear Channel Outdoor has launched a new network of 10 digital LED outdoor displays in Sacramento, California, adding to the Company's more than 500 digital billboards across 32 U.S. markets.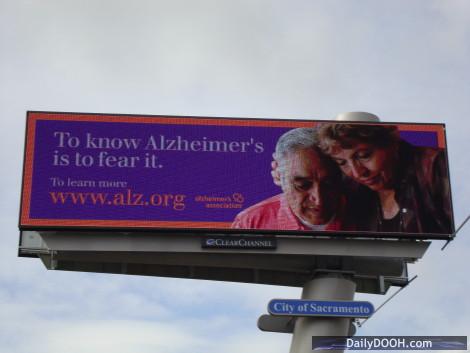 And running on these new digital screens in Sacramento, as well as on Clear Channel Spectacolor's SpectacolorHD digital billboard in New York's Times Square, is a new digital billboard public service campaign in support of The Shriver Report: A Woman's Nation Takes on Alzheimer's, a groundbreaking new study by California's First Lady Maria Shriver and the Alzheimer's Association.
"The Shriver Report reveals that Alzheimer's disease is an epidemic and women are at the epicenter," says Shriver. "This report will help shine a spotlight on the 10 million women impacted by Alzheimer's in America, and I applaud Clear Channel Outdoor for helping spread this important message to the Sacramento community with its new digital displays."
Clear Channel Outdoor's new Sacramento digital billboard network of 10 state-of-the art digital displays is placed on prime and highly trafficked gateway highways; HWY 99 WS, I-5 WS, 1-80 NS and Business 80 NS. The network is displaying eight-second spots every 64 seconds over a 24-hour rotation, guaranteeing exposure 80,000 times for each client. The total network reach over the course of the day will exceed 875,200 Adults 18+.
"As the state capital, Sacramento attracts the most influential economic and political audiences and we're thrilled with the opportunity to be able to showcase the power of digital display technology in helping to benefit the local community's needs," says Ron Cooper, CEO of Clear Channel Outdoor. "Just as our digital displays have been embraced in other markets by both advertisers and municipal governments, we look forward to enhancing the community and advertisers in reaching their customers and constituents with dynamic displays that have unprecedented flexibility to change messages in real time."