Adrian J Cotterill, Editor-in-Chief
JCDecaux has unveiled its new screens on the M4 Torch with campaigns that demonstrate the flexibility of digital outdoor. With two new product launches from HTC, an evening drive-time campaign from Diageo and multiple creatives from fashion brand UGG, the screens are part of JCDecaux's continued investment in the medium.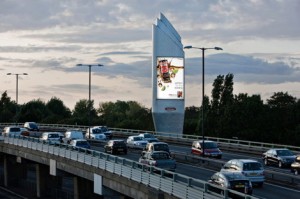 The M4 Torch stands of course on the busiest stretch of road between London and Heathrow Airport and provides 1.8 million impacts every week and an audience that is 67% ABC1.
The upgrade has provided two (6.75m x 4.5m) screens with a 10mm pitch, delivering an image that is 3 times the quality of the previous screens, keeping the Torch at the forefront of digital outdoor.
Jane Ratcliffe, CEO of MediaCom told us "It's great to see JCDecaux continuing with its investment into cutting edge digital. The quality of the new screens opens up the market to upscale clients who are looking for not only quality of display but also the flexibility of digital. Looking ahead, this is just what the market needs in the run up to London 2012"
.
The M4 Torch can be rapidly updated and can carry multiple creatives, enabling time-sensitive campaigns and countdowns to events or promotions as shown with what is running at present…
UGG is running a branding campaign with 11 creatives promoting its shoes and boots for men, women and children, ideally timed to reach consumers during the approach to Christmas. The strapline flags the UGG stores in London's Covent Garden and Westfield shopping centre in the key run-up to Christmas.
HTC is using the Torch as part of of their launch strategy for two new Smartphones; Desire HD and Desire Z.
Diageo is running two creatives promoting its Smirnoff vodka and cola drink, and Gordon's gin and tonic with the strapline, "Perfect for the evening", reaching commuters in the drivetime 4pm to 8pm.