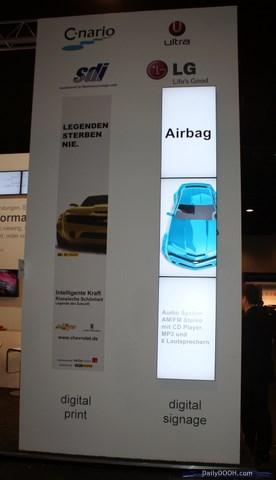 [1]If there was one single piece of creative on one stand at Viscom Frankfurt that summed up what the digital signage industry needs to be doing at events like this it was this juxtaposition of digital print and digital signage on the sdi stand G11 [2].
On the left you can see a traditional (printed) vertical poster – something of course which will attract the eye of many a sign maker here at the show. On the right hand side there are three portrait LG screens demonstrating how animation and the moving image can improve the static image on the left.
So, the colour of the car on the right hand side changed from yellow to green, pricing information appeared at the bottom, etc. etc.
This is simply one of the best comparisons of content we have ever seen. Hats off we believe to Frau Goebel whose idea this was and who oversaw the creative process.
It was also a very nice stand (good partnership with LG and C-nario). sdi told us that they had more leads yesterday (day 1 #viscomffm) than all 3 days in Dusseldorf last year which we think goes to show (a) the strength of the show and (b) the stand itself.