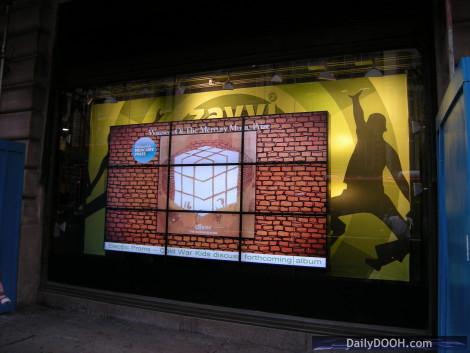 DSN's Zavvi screen window network shown here in their flagship Piccadilly location showing the advert for the Mercury Award winning album from Elbow.
The client was Polydor Records/Universal Music.
We also hear rumours that they may have signed a deal with Monster Media. If that's true then we guess that the horrible Orion Infinite M-PDP shown here (complete with huge bezels) would be replaced and they might also start using Monster Media's proprietary motion detection system as well!
That can only be a good thing – the trend with retail window displays is very much projection these days, often with added vinyl as pioneered by the likes of Mediazest and Motomedia.
Both Monster Media and WindowGain have established offices in the UK, see "Monster Media Open London Office" and see "WindowGain opens office in the UK" – we can see a real battle royal between these guys going forward.