Adrian J Cotterill, Editor-in-Chief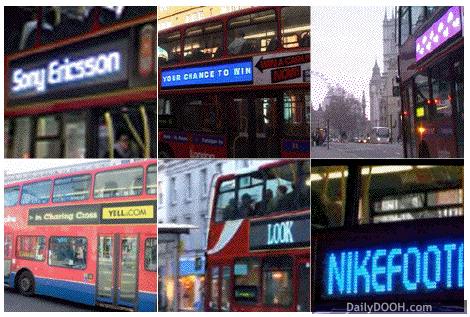 Litelogic already supply LED Superscreens to approximately 25 CBS Outdoor managed buses in London and whilst the article "CTA unveils digital advertising on No. 124 bus" in yesterday's Chicago Tribune doesn't mention Litelogic at all, our sources in the US tell us that these are definitely one and the same.
An Oreo cookie takes the plunge into a large glass of milk on a digital screen attached to the outside of a CTA bus.

That's a colorful, crisp example of the new type of advertising that the Chicago Transit Authority and Titan Outdoor unveiled Monday.

CTA President Ron Huberman said the new campaign, which is being tested on one bus on the No. 124 Navy Pier bus route, is sure to satisfy the cash-strapped transit agency's sweet tooth for raising additional revenue.

He said it's part of an advertising partnership with Titan that is expected to generate $10 million a year during 10 years for the CTA.

CTA officials hope to put digital wireless advertising screens on 100 buses by next summer and expand the program to include all 144 CTA rail stations.

But first the electronic technology must be road-tested on the one bus to see if it can take the wear and tear, officials said.

"It has to be able to go through the [bus] wash rack on a daily basis," Huberman said.

The screens on buses will be placed on the curb-side of the vehicle.

The rail station display boards also will tell riders how many minutes until the next train arrives.

In addition, beyond advertising, the screens represent the first step toward a new CTA digital communications network that would be used to issue alerts to the public in emergencies.

It also could be used to broadcast Amber alerts for missing children, officials said.
It hasn't taken Titan very long since announcing the deal this April "Titan Worldwide Partners with Chicago Transit Authority to Launch Digital Advertising" to get something up and running.
Following the link to the Chicago Tribune is worthwhile as they have a nice picture of the bus.