Gail Chiasson, North American Editor
The Metropolitan Airports Commission has launched two new technology-based services to help travelers make the most of their trip through Minneapolis-St. Paul International Airport (MSP).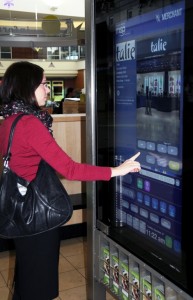 A new Digital Concierge program features two four-sided digital touch screen directories located at either end of the MSP airport mall in Terminal 1-Lindbergh. The program can be expanded in the future to provide additional interactive directories in other areas of the airport.
In addition, MSP's new mobile application, goHowAirport, is available for free download onto iPhone and BlackBerry devices. Early next year, the app is scheduled to be available for Android devices as well.
"These new technologies enable us to personalize each traveler's airport experience by presenting information in ways relevant to that person's individual interests and needs," says Jeff Hamiel, executive director of the Metropolitan Airports Commission.
"The mobile app and touch-screen directories map the way to your gate; show what shops, restaurants and services are in the vicinity; tell you how many minutes away each location is; and offer search or filter functions so you can find food items, merchandise or services of particular interest to you," Hamiel says. "Our goal is to provide one of the best airport experiences in the nation by placing the travel information you need right at your fingertips."
Both devices also include: airline and flight information; hotel and ground transportation options; menus for MSP's full-service restaurants; airport maps and walk times to chosen points of interest; airport news, deals and events; weather information; and search or filtering features. And the goHow Airport mobile app even allows travelers to rate airport shops, restaurants and services – and to see how others have rated them.
Unlike other travel apps, goHow Airport's data about Minneapolis-St. Paul International – including real-time parking information – is provided and managed directly by the Metropolitan Airports Commission, helping ensure it is the most accurate and up-to-date available.
MSP's goHow Airport feature is available through an agreement between the Metropolitan Airports Commission and Simat, Helliesen & Eichner Inc., a leading aviation consulting firm headquartered in Fairfax, Virginia, with locations in Boston, Chicago, New York City and London. SH&E partnered with Boston-based SapientNitro, an interactive marketing, creative design and technology services agency, to create the goHow Airport mobile app.
The airport's new interactive kiosks were developed with the services of Alive Promo, a Minneapolis-based company focusing on digital signage solutions.