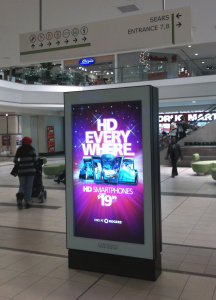 [1]This physical pod at Scarborough Town Centre looked clean, with high quality finish, branded with Scarborough Town Center logo. It was considerably thinner than the current Pattison-OneStop ad pods found in other malls around the Greater Toronto Area; so thin that at first glance it looked as a regular light-box, until the content jumped in motion.
Content loop included a mixture of Rogers, Disney, HP and Royal Bank ads on one side and a static image of the mall map on the other. Unfortunately the directory was not interactive or searchable.
Scarborough Town Center is managed by OXFORD Properties [2], which looks after a number of high-profile malls in Canada. Hopefully corporate looks at taking the digital directory project into its other locations.