Adrian J Cotterill, Editor-in-Chief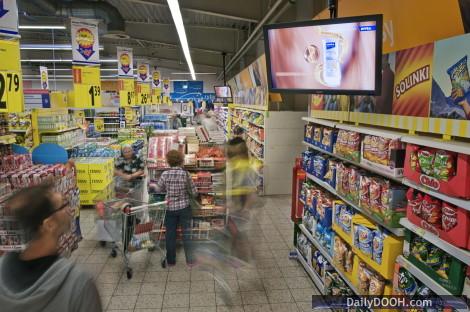 ATVERTIN's claim in their press release that this Tesco installation in Poland is "one of the greatest digital signage projects in Europe" might actually be a Polish <> English language translation issue – 'greatest' being used instead of 'largest' but either way from the pictures (and nothing beats seeing it first hand of course) this really does not look all that special.
Two years in the making and with all the learnings on how others had done it wrong could have meant that this was a showcase Gen 2.0 Retail network like no other!
Anyway what does look impressive is the client (Tesco's is a great customer to have and of course a brand to be associated with) and the size is not too bad either (almost 1500 LCD screens in 52 Tesco Hypermarkets).
Maciej Dziewolski, the president of Atvertin tells us that "arrangements to implement the project of such a huge scale have been in progress for almost two years"
There are on average 28 screens per hypermarket but we still CANNOT believe that they are installed at a height of 2.4 metres in the main communication tracts, in the main alleys and at so called hot points.
Each screen is also equipped with zone sounding that works out to a 15 metre radius (there's no mention of what technology is used but it may well be a Panphonics sound shower or equivalent).
Content loop is 275 seconds and consists of advertising spots, information offers and the pro-client activities within the Tesco network.
There appear to be two channels; 1-2 screens for alcohol and tobacco products and the other (26) screens in the main hall.