Last week I went to the Ram Vision conference held in central London, at the Courthouse Doubletree Hotel in Great Malbourough Street. The hotel's apple-green seats, at its cinema style conference room, were practically all occupied. Late comers stood on the side stairs not to bother people intently following the presentations, run on a tight schedule of ten minutes each.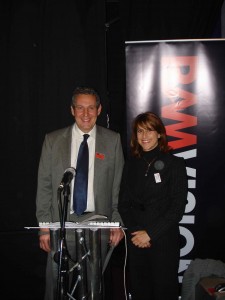 Ram Vision wanted to share its plans the coming year, which it says it will be 'The Year of Digital Advertising.'
The company, which started just a year ago – and it is part of the Ram Investment Group, sells National and Regional advertising space across a UK mall network of large format screens, landscape plasmas and kiosks. It uses BroadSign software, which also allows it to provide its clients with real time reporting and measurements of every digital campaign.
Ram Vision also operates an in-house creative studio to provide content for Outdoor, In-store, Broadcast, Web, Exhibitions and Conferences.
Ram Vision's main products are: the Iconic screens, which are cinema size thin vessel displays, walkways screens and the Light Box, which are also thin vessel horizontal displays manufactured by Philips.
To this mix, from 2011, Ram Vision is adding 3D. Ram 3D are 65 inches displays from Free Ray that the company is planning to roll out in shopping malls. This is, in deed, 3D without glasses. The viewing angle and quality of the image is one of the best I've seen so far.
Images and graphics don't necessarily come out of the screen, but the displayed graphics and photos have depth and clever computer generated animations.
These screens have a unit value of around GBP 20K, but David Da Costa, Ram Vision's MD, explained that "The plan is not to sale individual screens but to put them in shopping centres and share the revenue gain with them."
Amongst other developments for the coming year Da Costa talked about installing an Iconic network for the M25.
Ram Vision screens can be found in 40 malls around the UK, with a footfall of 750 million a year. Oralndo Capitano, product manager at Ram Vision, says that next year the company is looking into adding 50 more malls to its digital screen portfolio. "We have identified 100 potential malls and we are already holding conversations with many of them," said Capitano.
Ram Vision was very open with its plans and welcomed as well the presence of direct competitors such as CBS Outdoor. Lisa Ronky, head of creative and development at CBS had a long friendly chat with Savvas Tombouloglou, Ram Vision's director of creative, comparing notes and sharing knowledge at Ram Vision's Soho office.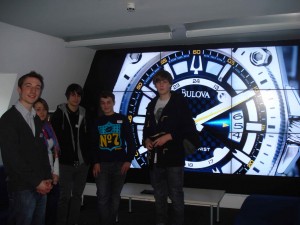 There were also 'young people' at the conference. To my surprise a group of teenagers were also in the audience and went keenly to see the technology at Ram Vision's office too. Jon Givvan, Media Studies lecturer at the Sheldan School took a small group of students to learn about this emerging medium, digital signage. This is most important, in particular after having agreed at DailyDOOH's digital signage round table last week that one of the things the industry desperately needs is to educate new comers about what the medium means and what its possibilities are. Da Costa took time aside to answer students questions and personally walk them through the technology.
Ram Vision has set up its offices as a showroom. If you want to see what the Iconic, Light Box or 3D screens look like, you just have to pop around the offices which are next to the Liberty store.